Travel Photography Gear Guide
When staying close to home, it is easy to carry around multiple bodies, lenses, filters, tripods, lights, and anything else you might need to capture the perfect image. However, as soon as air travel is involved, a lot more thought needs to go into what to bring. Here is my travel photography gear guide of what I bring, along with a few other recommendations.
Backpack:
A backpack makes the most sense to carry your gear. Finding one that fits all your gear and you know will fit on the plane (either under the seat or in the overhead on small regional jets) is key. This is why I choose the Peak Design 20L for my travel. The bag is lightweight, weatherproof, and easily fits under the seat on every flight that I have brought it on. Does it fit everything I need when I travel – yes.
Honorable mention goes to the Mindshift Gear Rotation series. Extremely functional and might be a bit better if you are planning on doing some more intense hiking as it features a more robust hip belt than the Peak Design. That said, the Peak Design provides better organization and will allow you to carry a bit more of your camera gear.
Camera Equipment:
Camera bodies and lenses are heavy, as such, go as light as possible. I try and only bring one body with me if I can. I have a Canon 5D Mark IV that I trust will work in any environment. If traveling for a client, there is risk in only having one body with you if it does breakdown. Think through if you could get by without it, rent or borrow one if you had to, or if you really do need a second body. Even a Sony mirrorless body which is relatively small and light takes up significant space in a bag and weighs almost 1.5 lbs.
When thinking about what lenses to bring, I usually choose two out of my three primary options – Canon's 16-35mm f/2.8, 24-105mm, and 70-300mm. Between these three lenses, I can cover a lot of range. If I am going and shooting landscapes, I usually bring my 16-35mm and 24-105mm. This combination fits nicely, along with my 5D Mark IV, in the bottom space of my Peak Design pack. Some situations might require a longer zoom – like an African Safari, a portrait shoot, or certain cities. For these trips, I like my 70-300mm. While the 70-300mm has a varied aperture, I like the small size and weight for travel versus Canon's 100-400mm or 70-200mm. Other recommendations for travel include Sigma's 12-24mm and 150-560mm. Both are excellent lenses for travel depending on what you are trying to shoot.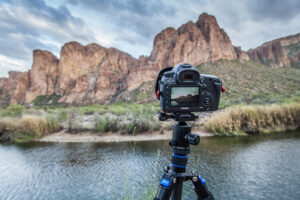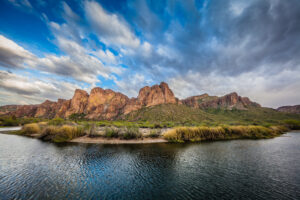 Lastly, as a FAA licensed drone pilot, I always like to have a drone with me and DJI's Mavic Pro is the perfect travel companion. I just upgraded to the DJI Mavic Pro 2, so I am looking forward to traveling with a drone the exact same size, but that takes even better photos and videos. It fits easily in my Peak Design bag (or in the outside pocket!) and the different perspectives that one can get with aerial images makes it worth the space it takes up as well as the additional weight in the pack.
Essential Accessories:
A tripod is essential for travel photography. It needs to be small, light, and stable. My go to is the Davis and Sanford Traverse 553 – P228. With a 10lb capacity it is able to handle my camera and any lenses I put on it. When folded the Traverse 553 is only 12" and weighs a meager 2.6lbs. This is one of the smallest and lightest tripods on the market that provides the stability needed for travel photography. If you want to pack your tripod in larger luggage, there are lots of options from Davis and Sanford and other brands like Gitzo, Really Right Stuff, and Three Legged Things that weigh a little more and don't fold up as small. These tripods are great if you want a taller tripod and require an even more stable platform.
Filters are a must for any travel and landscape photographer. My go to is the Tiffen Company NATural Neutral Density Filters. Tiffen's Pro 100 system allows me to use the same filters across all of my lenses by just putting a ring adaptor on the lens. This allows me to reduce the number of filters that are in my bag. I only need one 10 stop, a 2.1, 2.1 grad, a 1.2 and a 1.2 grad plus the adaptors if I am traveling light. These, along with a circular polarizer (a MUST for any photographer – seriously, don't leave home without this), give me the flexibility I need to get almost any shot.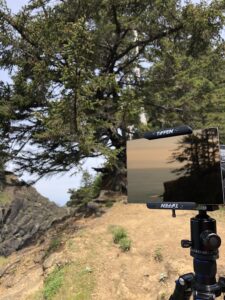 When traveling, a good camera strap not only helps to keep your camera ready, but also ensures it is always on your body – thus reducing the chance of theft. I haven't found a more comfortable strap than Peak Design's Slide series of straps. They look good, are easy to use, and can be easily removed if needed.
This list wouldn't be complete without talking about SD cards. My favorites are SanDisk Extreme Pro's. They are fast and reliable. Don't forget to swap out your cards frequently when traveling as if you do happen to lose your camera or the card fails, you'll have everything from your other cards to take home with you. Related to this, I store my cards in a water and dustproof Pelican hard-case. This keeps my cards safe and all in one place.
Lastly, don't forget extra batteries. You don't want to be about to capture an epic scene and not have power. I always ensure I have multiple charged batteries with me at all times.
Electronics:
I try and travel as light as possible – so this means I leave my computer at home and replace it with these two items. Together they are significantly smaller and lighter, while replicating nearly all the functions I need to support my photography when traveling.
iPad Pro (10.5 inch) with keyboard. My iPad Pro is a great companion on the road. It is small, light, and extremely powerful. I can download images onto the iPad and edit them in Lightroom to see how my shooting sessions are progressing or upload them to social media. If I need Photoshop because images have to be delivered to a client before I return, then I do bring my MacBook Pro. However, Adobe is said to be launching Photoshop for the iPad soon so there may be a time soon when I never need to travel with my MacBook Pro.
Western Digital My Passport Wireless Pro. With a range of storage options, it is easy to find a drive that will meet your needs. The My Passport Wireless Pro has one button back-up. Put your SD card into the device, push the button, and your images are backed up quickly and securely. You can then connect it – wirelessly! – to any device you want, iPad Pro, laptop, desktop, etc. Seriously, this drive has changed how I travel and back-up my images.
I also have an iPhone XS for taking pictures for my blog, quick timelapses, and other photographs where I don't need my DSLR. The camera and video on it are great and it works seamlessly with my iPad Pro or MacBook Pro when traveling. Also used as the screen for my drone remote controller.
Other Items:
Here are a few other items, tools, and apps that I travel with on or use on a regular basis. While not necessities or something I bring on every trip, they are useful depending on where you are going and how light you want to travel!
Peak Design Shell – Provides water/weatherproof protection for my camera and lens when on my tripod photographing waterfalls, the ocean, or in the rain.
PhotoPills – A great application for planning shots as it provides – among other things – the position of the sun and moon through a VR tool.
Remote – A remote that connects to your camera and is app controlled from your phone. Perfect for getting those selfies from far away (instead of having to set the timer on your camera to 10 seconds and then making a run for it). I've found both the CamRanger and Arsenal have greater distance ability and more reliability than the Canon Camera Connect system.
Amazon Kindle – Sometimes with photography we have to wait around to get the shot we want. Having some good books helps to pass the time. Can use the Kindle App on your phone or tablet if you want to travel super light.
That's it. This list is definitely not all inclusive of everything I bring when I travel that is related to photography, but hopefully provides a good overview of how I travel light and still get the shots I need. To shop many of the items on this list, click here!
Also, there's a great guide on Pixpa for travel photography if you are looking for more tips and suggestions, click here!